Carsten Olbrich is another of those 'golden age' underground networkers that I seem to have known most of my life. His label, Ebus Music, was providing a few tapes for UK release on M&E as far back as 1992 (Unpleasant Surprise is one that springs immediately to mind, I liked them), as well as some stuff by his own band at the time, Schmertz Der Welten. He has also been a great support to MMATT over the years, going all the way back to the German release of "Flashbax Vol. 10" (EM 035) in 1994, support which continues with plenty of airplay on his show on Radio X, based in Frankfurt am Main. He even still plays tracks from that 25 year old cassette release too, making something of a legend of Nick 'The Exocet Kid' Morgan (below, left, with Eddie) with his regular airing of "The Eddie Irwin Song", which seems to be something of a mainstay on his Review Of The Year shows each January. He may take the piss a bit, but it's all done with love, Nick, I promise you. "It's just a real earworm to me (meant positive)," he explains, "sometimes I get a brand new sympathy for old songs which I haven't heard for years. I still love Nick's (non) singing style??" As do we all, sir, as do we all...
---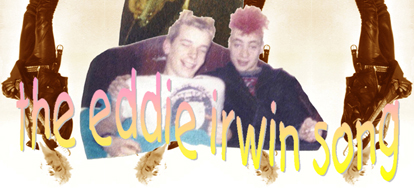 ► "The Eddie Irwin Song" (4:10 - broadcast extract from
Radio Escobar, 1st August 2017)
---

Actually, we got thoroughly spoilt when "Flashbax Ω Ultimate" was released on Klappstuhl in 2015, Carsten included a special half an hour section on the album in one show, including a brief interview with yours truly (the show is in German, but my answers were pre-recorded in English, which he translates for his home audience). He plays "Pandora", "The Time Machine" and "Spirit", some extracts from "Sister Jody" to gel it all together, plus a bit of Venus Fly Trap from the "Decadion" collections as a nod to M&E. I have an mp3 of it somewhere, will dig it out and stick it up on here.
---
► "Flashbax Ω Ultimate Special" (30:31 - broadcast extract from
Radio Escobar, 1st December 2015)
---

So, to 2018, the adventure continues; In March, Carsten included a section on our "United World Underground Collection" in the 'Cassette Culture' hour of his show, including tracks from The Flowers Of Romance, Galactic Lilah Et L'Orchestre-Fantôme, Rotton Kidz, Artemiy Artemiev, Anima Mundi and myself & Chris Carter (aka Mick & Chris On Acid), much of which was replayed in his Review Of 2018 show back in January. Nice man. I see that little bit at the end of "Xmas With Jody" where the original four of us mutilate "We Wish You A Merry Christmas" has become a regular on his Xmas shows too. Ah, glad to be of service. Honestly, he'll have me doing station ID's next. Oh, hang on, now I come to think of it...
---
►Radio X Station ID - Mick Magic (0:03)
---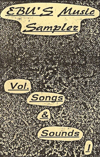 So how did it all begin? I always find it an interesting question to put to the networkers that have stood the test of time and keep fighting the good fight. "In the late 1970s, around the age of 10, I owned a cheap tape recorder that I inadvertently turned up too loud during a test recording." He explains. " The resulting feedback sound on the recording changed so strangely melodic that I instantly got the idea to use it as an intro for a first, own cassette-release, but without knowing how to go ahead with this. Of course I already knew homerecording: my guitar and me in front of the cassette recorder. So loud, 'that you can hear it to the sports field!'" The last quote apparently down to his mum. When my mum heard my first demo, she just said "It's crap really, isn't it?" That's why I put that mad 'ansafone' message of hers on "Zoen Nostalgia", revenge is a dish best served on chromium dioxide. Back to Carsten; "Nine years later, it was Frank Milautzcki's mailorder list that brought me into contact with the wonder world of the real musical underground and changed by the way my listening habits. After I first started the label Ebus Music for my own music in 1988, then the Ebus Chartbreaker zine, an international sphere of activity soon emerged, which currently continues until today."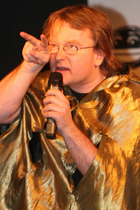 These days, he is probably best known to international undergrounders for the monthly radioshow, which has been running since 1996, and the second hour of which remains firmly dedicated to cassette culture, which I think is pretty cool for someone who's even had a TV documentary made about him. If it was me, it would go to my head and I'd make you all call me 'Sir'. Ebus Music also remains an active label, the first release in 2019 will be a collaboration between Jad Fair and Doc Wör Mirran on transparent vinyl (YES!) in two different designs. I like vinyl. Aside from that, Carsten continues to make music under the name of Herr Ebu, as well as being a member of musique concrete outfit, Watercoloured Well, who some of you may remember from the M&E Showcase. I wonder what he does in his spare time? ;-)
LINKS;
www.facebook.com/Ebus-Music-141326779744713
https://www.facebook.com/herrebu1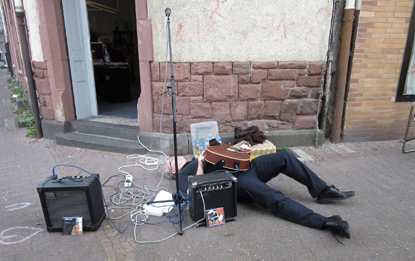 Herr Ebu takes a well earned rest...