G R E E T I N G S . . .
---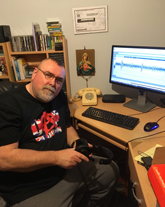 And a very warm welcome to the first edition of the new year. Finally. Our 2020 vision not having quite turned out the way we'd hoped (us and the rest of the world, eh?), I was planning a new one in January, then we got the 12½ hour notice school closure thing dropped on us and everything went out of the window. Again. The best laid men of mice with plans, as they say. Whilst I love being our Twizz's dad, I really never had any ambitions to be her teacher, it's harder than you'd think! Anyway, in spite of the last year being... um... let's call it "quite interesting"... our latest musical incarnation has soldiered on bravely , the first 18 months of its existence producing; 5 albums (okay, 4½, the one in the middle is a split), a single, tracks for 35 compilations on 13 different labels, 1 track for a special podcast series and two album length pieces of sonic torment for The RPM Challenge! There's a lot more info about many of our projects on here now (and still more to come as we continue to play catch-up after the Easter school holiday), all linked from the Magic Bullet index on the navigation bar. And do pay a visit to our Sounds Bazaar marketplace for consumables and freebies alike!
0
So, 2021, dare we make plans? I realise so much depends on how things go, vaccine rollouts, schools remaining open et al. I had my first shot a month ago, feel a little safer now, though the aliens can hear my thoughts when I pass a 5G mast! Life, eh? While we're not convinced there'll be another Magic Bullet album this year (we're also not ruling it out), Skit and I will still be producing recordings regularly for compilations and other projects, so don't go thinking your ears are going to get an easy time of it. Talking of which, we were thinking of taking our own R.F.A. Challenge ourselves. Nope, to our eternal shame, Leslie Singer survived the 35 and neither of us ever have, so we've got in mind a live online event based around that, hopefully with audio and other contributions from a few of our buds out there. Which also leads me to the Magic Bullet & Friends project we're planning for later in the year (maybe around our birthday on October 1st?); the idea is an invitational compilation on M&E for the many fine experimental musicians who've released our stuff on their labels, a bit of cosmic payback and a potentially great music (and elsewhere!) collection in one.
0
Meanwhile, there's a few recent finds over to the right that you should find enjoyable; some vintage zines and compilations, all free to download; a Bandcamp revamp of MMATT's first digital age release, courtesy of Rodent Tapes, that's on a name your price; plus a new blog article from TAFKAMC (the

artist formerly known as Mal Cieslak). Next issue should be with you in July, all being well, but there's plenty of new Magic Bullet related content coming on here before then. Till next time then, stay safe & keep the faith...
N O S T A L G I A Z O E N . . .
---
Lord Litter found this gem online, a PDF scan of our very first newszine from the summer of 1991, some nine months before we even started M&E! It's amazing how many of the folk written about in here we're still in touch with too...

A N E M I C B I L L F O L D N o . 3
Another Litter find and another classic from October 1993. This zine was published by our long standing Californian friend, Kevyn Dymond (Guaranteed Cleveland Records), and features a vintage 4 page interview with meself, starting on page 4, and a review of Psychotron Ø on page 27...
B E S T O F T H E D É M O T H È Q U E
DT06 (1993), courtesy of the German Tapeattack blog, an absolute treasure trove of underground cassette releases. Le Démothèque released Flashbax Vol. 2 in France, from which they've included the Lord Litter enhanced version of State Of The Art, which some kind soul has also put up on You Tube...
https://www.youtube.com/watch?v=98g-3e0hqmU

V A R I O U S A R T I S T S -
T R A V E L A G E N C Y T A P E N o . 2
Tapeattack again, and this is one whose existence had remained unknown to me for 28 years! Compiled by Markus Schwill in 1993, we were very pleased to see it included 'Psychojoiting' by 'Magic Moments Of Twilight Time', ho hum...

T H E D I G I T A L A G E C O M E T H
The very first MMATT release of the digital era, Freedom Overflow (Rodent Tapes, 2013) started life as a lo fi MP3 collection, but now gets a full-on Bandcamp revamp, complete with high quality sound files, lyrics et al...
The Surrey-based writer and poet waxes lyrical about the early days of Magic Moments At Twilight Time, and Galinis coffee bar in Camberley, where we both dreamt away most of our teenage years, supping frothy coffee and planning illustrious futures in music and literature...
---
R E V I E W S - C L I C K O N T H E T Y P E W R I T E R T O V I S I T O U R P R E S S P A G E O N R E V E R B N A T I O N
---

Stuart Mr. H Hamilton (Zeitgeist / The Rocker) on Digitalis; "In a strange twist which really shouldn't be happening a quarter of a century after our paths first crossed, I reckon it's his finest release to date."
Lord Litter on Mi Casa, Su Casa; "Yes it's truly excellent! ... breathes the experience of a true long working artist I think .. too much of today's experimental/soundscape stuff is scraped together ... it often starts somewhere and ends nowhere ... Mi Casa .. is a creation!"
---
T H E M A G I C N E T ' S B O O K O F T H E C E N T U R Y - " C A S S E T T E C U L T U R E " b y J E R R Y K R A N I T Z
---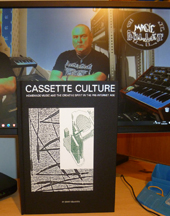 If you're a serious aficionado of the underground movement and have time to read only one book in your life, this is it. A beautifully produced hardback coffee table publication, 305 pages, complete with many reprints and photos from back in the day. It tells the story of how the popularisation of the audio cassette lead to the creation of the amazing global subculture we were so proud to be a part of. No self-interest here, I don't get a mention, this is the origins tale, the story of the giants upon whose shoulders I built Music & Elsewhere from 1992 onwards. Whether you read it cover to cover or simply dip in and out as the desire takes you, it's not an easy book to put down, trust me. It's also not cheap, but quality like this simply couldn't be, can't recommend it enough. Published by Vinyl On Demand Records, comes with 2 compilation CD's offering a sample of the wondrous cassette culture sounds of those pioneering early days.
L I N K S :
Vinyl On Demand - https://www.vod-records.com/-1-432-675.htm#prettyPhoto
Review by Lord Litter - http://www.lordlitter.de/html/index.html