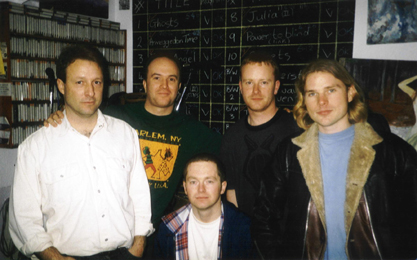 When they were legion; The Conspiracy in full number at Marc Bell's Brain Dead Studios in Plumstead, where we recorded the "Creavolution" album. Yes, once there were many of them. Then they disappeared one by one. It's a conspiracy...
---
DUNCAN: By the time you & I agreed on the songs for our 1995 No1 Best Seller "OUT OF THE BLUE" I knew we were improving & could reach out to a wider audience . Confidence was growing. As the other members of TC disappeared in 1996 the POPE/BELL song writing team went from strength to strength, but Dave & I had been recording since 1989! I even dared to dream of getting on Vinyl or CD one day…..
DAVE: Definitely my credit mention that made the difference! Ha! This was where I was starting to edge into the TC songwriting camp though Craig & Marks songs were still dominant on this & the next release.
MM: Following your 'coming of age', you produced what I would declare as my own absolute favourite TC album, the excellent "The Grand Illusion" (M&E 335 – May 1996). I'm listening to the album at the moment, still sounds as fresh as the day I first heard it. Actually, I think it's improved with age, if such a thing is possible? I love the kind of 60's style of the vocal harmonies and whole 'balance' of the album, but the stand out track for me was the delightfully trip-hop "Where Will It Take You?" As I now know, Duncan wasn't personally involved with that one (sorry!), how did the track come into being and what made you decide to include it with this particular album?
MM: Yeah, they've been to one of ours too. But I digress, which is very unlike me. Lord Litter had actually started to pay you a lot of attention by this point, resulting in the split album you released with him (M&E 254) in the January of 1994, yet still you hadn't touched ourcharts by the end of the year. However, there was a turning point here, one that I could never have told you about at the time; this one actually got ordered. None of those first three releases sold a solitary copy and were all deleted that summer, but you were just about to turn the corner so I'm damned please I DIDN'T tell you! Although you hadn't yet turned that relentless enthusiasm into 'commercial' success, The Networkers album, "Flotsam & Jetsam" (M&E 267 – July 1994), made very clear how popular you were becoming amongst underground artists, it including collaborations with the likes of Lord Litter, L'Edarps A Moth and Steve Andrews. Tell us the story of this key project in your history…
DUNCAN: Mick, I had forgotten about the "Flotsam & Jetsam" album! Do you still have a copy?
MM: Sorry, long deleted. And left by strong magnets for months afterwards, just in case.
DUNCAN: It was great to collaborate with Networkers, worldwide. They sent me music & I put lyrics/ Vocals on. My favourite collaborations were with Lord Litter, Steve Andrews & Trespassers W. We also released split albums/ singles with these people & more. That's what I did when I wasn't playing with TC in Plymouth or recording with Dave in London….. Busy, creative times.
DAVE: Not sure if I had anything to do with that album?? Though I do remember recording the tracks for the split Vinyl EP's with Steve Andrews & Trespassers W etc
MM: This one seemed to lay the foundations, maybe even create the confidence, for the following year's May release, "Out Of The Blue" (M&E 300). I remember you and I collaborated on picking the tracks for this one, deleted the back catalogue and started over. In many ways, it was like a 'best of' collection, concentrating on the things you did really well, and didn't it just work amazingly? The album broke our record for advance orders, was top selling M&E release of 1995 (only outsold by our own "Creavolution" and our best selling "Life, The Underground & Everything" compilation) and TC came from nowhere to be the best selling M&E band of 1995. How did you feel at this point in time and do you think it was Dave's first appearance on the credits that made the big difference?
DUNCAN: My copy of "The Grand Illusion" doesn't play anymore… have you got a copy, Mick?
MM: You always were high maintenance! No, I just stuck a brick in my cassette deck and pretended.
DUNCAN: Yep, "Where will it take you" was Mark Baker…. His wonderful parting gift to TC. I haven't seen him since 1996! Where are you Mark? I think this album (48th all time M&E top Seller) should be above "Poison Crawl" (21) & "Out of the Blue" (17)….
"The Sword Of Damocles"
Promotional Postcard (1998)
DAVE: I've still got a copy though I can't remember where I put my cassette deck, shock, horror!
MM: Lend it to Duncan, will ya? Anyway, after your glory year of '95 with M&E, the name of The Conspiracy seemed to be everywhere. The Germans, in particular, really took the band to their hearts; Pink Lemon Records releasing the wondrous "Citadel Of Dreams" 10 inch LP (1997) and the "Sword Of Damocles" CD (1998), then there was "The Ghost EP" released by Jar Music (2000) in that really interesting tin package (the Cornish connection!), great stuff. It must have felt quite a jump going from underground cassette releases to 'real' CD's, do you recall the feeling when you first held a hard copy in your hands?
DUNCAN: 1996 was also a great year because all my musical ambitions were about to be fulfilled. Since playing Beatles records at the age of (he hasn't put a number in, doesn't want to give his age away - MM), I had dreamed of singing on my own Vinyl record! A German label (PINK LEMON RECORDS) were interested, so I sent off about 60 of the best TC songs to Ralf Friel. In 1997 the Red Vinyl 10" EP "Citadel of Dreams" was released and my lifetimes ambition