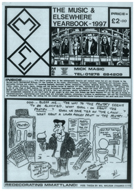 THE M&E YEARBOOK 1997 (44.6MB)
Editorial review, reprints and information for all activities through '96, 18 pages, complete with a lovely Wil Walker cartoon taking the piss out of the never-ending mess that was our kitchen redecoration project. Featuring - UK: Abfin / Hiddinkulturz, Alphane Moon (the zine), Steve Andrews / Splizz, Circle Sky, Bliss / Aquamarine, Contacts-Penpals Newsletters, Super Trouper, Cyrkel Spynn, Freedom Overflow, Directory Of British Progressive Rock, Feedback, Swordfish Distro, Dizzy Positivity, Hawkfan, Teenage Vampires, Synth Music Direct and That's Magick. Australia: Ignite Productions and Tales Of A Nomad. Austria: Trost. Belgium: Crohinga Well and Negative Radioshow. France: Krime Sonik. Italy: Hheth. Germany: Ebu's Music, Hawkzine, Klappstuhl, Klem News, Lord Litter and My Way. Japan: Rag & Bone. Greece: Periodiko Vromia / Christ Forum. Spain: Atropos. U.S.A.: Anemic Billfold / Guaranteed Cleveland Records, Autoreverse, Mudball Records / Intelligible Conjuror and Lonely Whistle Music / No Pigeonholes.
Then ya gets a Network Supplement section and Feedback '96 chart, the rather memorable one where The Organ was finally dethroned, after 8 years at the top, by Ptolemaic Terrascope. A historic moment indeed, my young friends...
---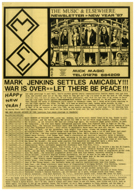 M&E NEWS - NEW YEAR '97 (15.5MB)
Now there's an iconic headline! Regular four-monthly issue, but only 6 pages long due to the sudden shock settlement of the Jenkins legal case (covered on pages 12 & 13), and subsequent removal of pages 3-9, written prior to that completely unexpected event. Features the Best Selling Artistes of '96 chart, Best Selling Albums of the year, plus M&E release reviews for Strangebrew, Titania Moon, Earth, Die Traktor, Lord Litter, Cheapo Card Company, Kelektrik and Wild Rain.
---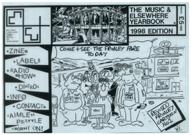 THE M&E YEARBOOK 1998 (60.9MB)
As top left, but covering '97, 24 pages. This issue was obviously scanned from one that had copied slightly skewiff, but is still largely legible. Features - U.K.: Alternate View, Bliss / Aquamarine, Astro Zombie, Bandit Newsletter, Contact-Penpals Newsletter, Cyrkel Spynn, Akasha Inc / The Dark is Rising, Hawkeye, Hawkfan, "The Current State Of The British Underground" by Chris Williams, International Who's Who In Music (Vol. 2 - Popular Music), Lowlife, Neighbours, New Generation / Rose Tinted Windows, The Organ, Pumf Records, Pocket, Powerplay (Ian Guy Lochead freelancing), Second Avenue / Obscure Delight Tapes, Synth Music Direct, Super Trouper, Rock 'N' Reel, Sequences, That's Magick, Hiddinkulturz, The Tombstone Detonator, The Westmorland Gazette (!) and Zine Zone. Europe: Atropos, Beton Tapes, Ebu's Music / Real Underground, Fight Amnesia, Fraction Studio, Hawkzine, Hheth, Kadath, Klem News, Maljugin Musik, Lord Litter, Metal Corner, My Way, Hax / Snowdonia, Notions, Pleasuredome, Psyche Van Het Folk, Under The Flag, Underground Night, Christ Forum / Vromia and Progressive Entertainment / Staubgold. Zone 1: Art Damage Radio, Doctor 13's Audio Lab / Set Cassettes, No Pigeonholes / Lonely Whistle Music, Autoreverse and The Mudball Traders Network / Little Mikey's Noise Factory / Intelligible Conjuror. Zone 2: T.O.A.N. Newsletter.
Also features a contact directory, almost like an A-Z of the underground of the day, fascinating bit of nostalgia, listing zines, radio, labels and distros.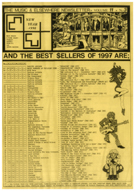 M&E NEWSLETTER - NEW YEAR '98 (14.9MB)
Regular four-monthly issue, 6 pages. Front page chart is the Best Selling Albums of '97, Top 30 Selling Bands and Feedback Chart are inside, along with the current Top 30 Chart. Includes a general news page, plus M&E release reviews for The Now, Christ & Satan, The Conspiracy, Titania Moon, Zerobranco, Wine Dark Sea, Terri B., Eye, Ras Al Ghul, Acidfuck, Earth, This Elegant Chaos and Doug Michael & The Outer Darkness.
---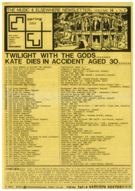 M&E NEWSLETTER - SPRING 2000 (29.3MB)
The most tragic headline I ever had to write, following Kate Twilight's death in a road accident the previous fall. The zine itself is a regular issue, back to the original quarterly by this time, 12 pages. The current Top 50 is the chart on the front page, also notable is an e-mail address at the foot of the page. You could probably still smell the smoke from the abacus smouldering in the back garden. Page 2 features a tribute to Kate, plus a few congratulations; to Kev "Acidfuck" Trundley on his marriage (it may be a scurrilous rumour, but we heard they met when he slipped her guide dog a biscuit), Isabelle Gernand (Sabotage QCQC) and Artemiy Artemiev (Electroshock Records) on becoming parents (oh, not with eachother!) and our very own Paola Program becoming pregnant. We think Pete was the father, but the lad has grown up pretty good looking, so the jury's still out. There's a few pages of general news, some definitive evidence I was a newbie to the web (I can't believe I fell for the 'stamps for e-mails' hoax, oh, the shame), and M&E release reviews for Sister Sinister, Artemiy Artemiev, Blacklight Braille, The Conspiracy, Earth, Gurus Of The New Millennium, Toshiyuki Hiraoka, Ir Visa Tai Kas Yra Gražu Yra Gražu, Motion Control, Captain's Log, Ras Al Ghul, Sabotage QCQC, Sirenée, Sleepy People, Uncle Id and Werk. Plus label sampler reviews for Dagger Tapes, Harsh Reality Music, The Mind Step Records and Trash Tapes.
---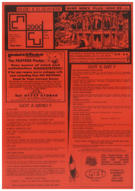 M&E BAND INDEX PLUS - 2000 EDITION (22.0MB)
Now this is NOT a regular issue. The Band Index was basically just contact details and brief description for every artiste on M&E, the aim being to encourage contact between bands so they could help eachother out. This particular Band Index Plus runs out at 14 pages and came about as a result of a big survey I conducted amongst our bands during 1999, seeking to pool available information and find out exactly what they were looking for from Music & Elsewhere and beyond. The result is almost a 'state of the underground' report, a capture of a moment in time, probably of most interest to networkers from the period or serious researchers, though only originally distributed to our bands. My own "United World Underground Report 2000" takes up the first interior page and makes for very interesting reading 14 years on, describing my vision for the underground in general and the plan for M&E. It's hard now to remember the kind of problems we were up against in a world where the internet was still centre of activity for only a small minority. I think overall we all did quite well under the circumstances, but I can't help read it now and think how much better things could have been. That said, I still consider myself extremely privileged to have been a part of it. And if I could go back and do it all again, I most certainly would!
---
That's all, folks, hope you enjoyed your trip back to the day...