I love all these excellent music online services coz it means we can give you lots of wonderful free music to listen to and download and stick on those funny devices people walk around your planet wired up to these days. Thanks to our mate, Stan Batcow, some more vintage MMATT recordings have turned up in digital format. They're from a 20 year old master cassette, so quality is variable, but mostly very good. Here's the lowdown of what sounds are available for your auditory pleasure, just click on the Reverbnation logo above and enjoy muchly...
---
Not from any album in particular;
"Psychojolting" (new track recorded for the July 1988 release, "Psychotron 0 - The Best Of Magic Moments At Twilight Time")
"Freedom Overflow" (recorded in 1992 as a theme tune for the pirate radio station of the same name, the lyrics were later rewritten and the song became "The Starship Psychotron")
From "The Time Machine" (C-4017, Oct. 1986 from my perspective, Jan. 1988 from that of Shona Moments, Kate Twilight and Jay Time, who travelled back in the Ford Escortron to make the band better from the beginning, like you do);
"Teamushysomepour"
"Womble Pudding"
"Marriage Of The Potato Masher"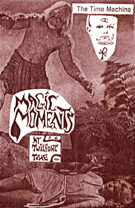 From "The At Twilight Time Album"
(C-4014, November 1987)
"Pletwo Sam"
"Freak" (Edited Version)
"Kannerbonz"
"The Wedding"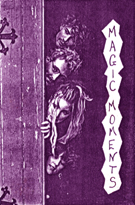 From "The Magic Moments Album"
(C-4013, November 1987);
"Trois"
"White Cathay"
"Acidic Heaven"
"Pandora"
"Zen Sequent"
"Galina Beloglazova"
"State Of The Art"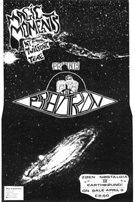 From "Zoen Nostalgia II Earthbound" (MMATT 33, April 1991)
"Shades Of Purple"
(also on the July 1989 first edition)
"Cardiac Attack" (Edited Version)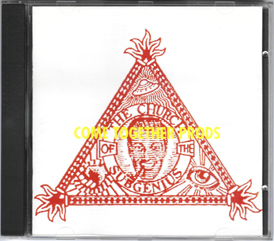 From "White Hawk Atomic"
(MMATT 34, January 1992)
"Blitzkrieg!"
"State Of The Art"
These two edits from "White Hawk Atomic" are the ones that appeared on the Come Together Productions (France) label's "The Church Of The Subgenius" compilation CD, our first appearance on that medium. The "Blitzkrieg!" track was also included on the Secrets Of Sound EP, along with tracks by Sons Of Selina, The Original Mind Band and Frank's Dad, it remains our only single.