When I first received a demo tape from The Thamesmead Rollers, way back in 1992, I didn't know quite what to make of it. For a while, it served as a coaster in our office, but eventually I summoned up the courage to listen to it. It was awful. It wasn't just Marc's lack of singing ability, musicianship and songwriting skills, it was the lack of that special something extra. "You're wasting your time," I told them, "you're crap, you'll never get anywhere." But they'd been drummed off a music course for being too old and the tears were rusting their zimmer-frames, who was I to deny them a chance at their 15 minutes? Marc Bell owns and runs Brain Dead Studios in London, he's worked with such luminaries as Mike Westergaard (The Blessing) and his 'awful' band went on to be one of M&E's all time top 10 sellers. Oh, and they are bigger than ever now, their contribution to the New Year 2014 M&E Showcase racked up over 4,500 plays. What is it with you people? Do you not like your ears or what? I caught up with the man himself to get some tips…
---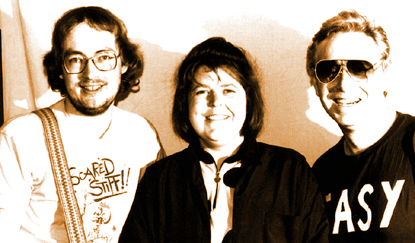 The Thamesmead Rollers: Marc, Debbie, and Derek, back when they were young, so long ago that the publicity photos were still produced in sepia.
---
MM: It looks like the piss-taking started almost immediately, my first review saying how great it was to see you guys doing your own thing at an age when you'd normally send it out to be done. That first M&E release, "Wasted Years" (M&E 119, December 1992) was probably the biggest surprise of our first year in business. In spite of it sounding like a 1973 edition of 'Top Of The Pops' recorded off the TV with a cheap microphone, it propelled you to our 7th best selling band of that period. How did the three of you come together in the first place, and perhaps you can tell us something of the creation process that came up with the rather unique Thamesmead Rollers sound?
MB: That was a long time ago back in the early 80's….. the rumour goes we met at a Bruce Springsteen concert (on 'The River' tour). And we all did live in Thamesmead at the time (apart from Derek, who was just down the road at Charlton). We jammed together down at Waterfield (Thamesmead) and hit it off straight away. Our drummer at the time was Shane. He only knew one beat, but played very loud, so he got the ticket. I guess at the time we were a 70's covers band. Within a couple of years, we were the backing band to an up & coming local singer/songwriter called Andy. Just as we were getting success on the London circuit, Andy quit music to give away Bibles in Eastern Europe, hence my rather biased views on man-made religion. By, I think, 1984, I had moved to Plumstead and built my first small studio….. later to be called 'Brain-Dead', after a review in Making Music….. 'The engineer must have been brain dead to have recorded this'.
MM: It's not just me then.
MB: By the time we sent you our first tape, we had been together getting on for 10 years and had written & recorded over 200 songs. For the sessions of 'Wasted Years' we had a Fostex 8-Track, a Seck 12/8/2 Desk, 1 Compressor, 1 FX unit, some MIDI gear & a selection of very cheap mikes. The vocals were recorded on the cheapest Shure Prologue microphone. First we'd start with rough demos on a Fostex X30 (4-track). Then we'd program a rough drum part & MIDI instrumentation. The 8-Track & gear was then hauled to Waterfield & we'd record live drums, percussion & a bass part in sync with the MIDI tracks. This was then taken back to our studio & we built the rest of the track. We usually finished a new recording from writing to mix-down in 10-14 days. These days I like to work fast too….. if you can't demo a song on an acoustic or piano first, you know you're wasting your time & no amount of studio time & production will save you.
MM: To celebrate the first complete year of Music & Elsewhere, we issued a compilation called "The Best Of M&E 1992/93" (MMATT 39) in April 1993, featuring our top 10 selling artistes to that point. My band were no.1, nah-nah nah nah-nah. And there were you guys at no.7, represented by "Down Of The Farm" and "Twenty Odd Years", go figure. In the summer of 1993, "Wasted Years" topped the M&E chart, we've long suspected anonymous bulk purchase by sympathetic staff at Help The Aged. So, did you expect your material to go down so well on M&E and how did that sudden success begin to change things for the Rollers?
MB: Actually we never expected or wanted any success. Back then we used to write, rehearse & record 2 days a week and take any live gigs on offer. Our first stoke of luck was getting in touch with the folk singer Michael Chapman, (an idol of mine…. it was fantastic meeting the guy) he recommended us to 'Right Now Records'. So we travelled to Cumbria for a second time to record the 'Yellow EP' (vinyl & cassette). Mel Hogan (Mega-Music International) then approached us & signed us for management. He agreed to our terms for a percentage of our P.R.S. He edited, then licensed bits of our stuff for Jingles & stuff…. I still see some of it turning up in my P.R.S. statements to this day…. Fuck knows what percentage he took, but he was a great guy! One of the few people in the music biz I've never had a bad word for. Around this time we were approached by Radio Thamesmead. One of their DJ's had suffered one of our gigs. So we had some interviews and started to get regular airplay. The first track we had played was incidentally, 'I Will Survive', a Derek vocal ballad. I remember sitting at home and listening to the radio… I thought, 'Fuck me, that's our song!' We moved on to giving free live shows & DJ'ing at hospital radio stations. Joyce Green, was my favourite, it was a mental hospital and the control room & live area were packed every-time we visited. (The facility was built from money donated by Sir Mick Jagger). Within a year we'd had interviews & airplay across the UK Independent Radio Network. After 'Wasted Years' topped the M&E sales chart, people started to approach us. Especially companies who asked us for more commercial material…. But to paraphrase Neil Young, 'We just headed for the ditch!' When some publishing rep at CBS puts a bottle of beer on the table and tells you 'You write great songs, can you drop the band & write for us instead.' You know all he has is $ signs for eyes…. Over 20 years later I pride myself on never selling out. The Clash taught me that back in '76.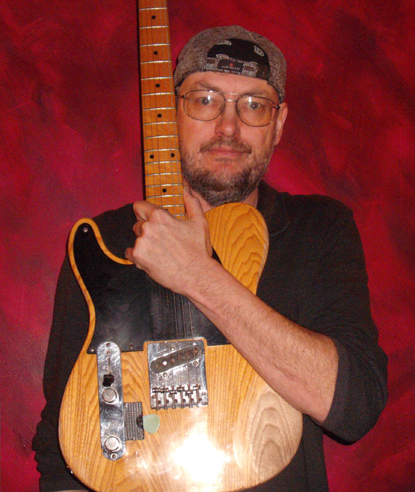 A more recent publicity still, from after the invention of colour film...
---
MM: Although I'd done nothing to you, you invited me to your Plumstead studio to do a session for your next album. I only said yes coz I knew Kate Bush lived somewhere nearby and I might have bumped into her in the kebab shop one night. What you wanted was a bit of lead on "Armageddon Time", but I'm not much of a lead guitarist and just