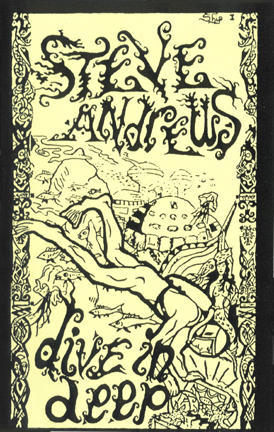 The cover of Steve's first M&E release, the one I said would never sell. Second best selling M&E artist ever. Only second, mind. Told ya so...
In working through our top selling artists to interview, this guy, being our second best seller ever, is probably a tad overdue. What can one say in introducing Steve Andrews? He's a one-off, there CAN be only one, two on one planet would have been too much for a single world to cope with. Already one of the best known faces in the underground, the man is a force of nature. His enthusiasm fires at 15 words to the dozen, so don't expect too much punctuation! And if he has to live to a 1,000 years old to achieve it, he WILL be bigger than Elvis...
---
My review of Steve's most famous album, "Dive In Deep", taken from the Rise '95 issue of the M&E Newszine; "Well, I'll be honest, I've had to eat some humble pie on this album. Ya see, I rejected this one about a year ago… and I've had to sit back and watch it become an underground classic. Oops! So I wrote to Steve and begged his forgiveness…"
---
MM: I suppose rejections are a fact of life for any creative person; whatever you do, not everybody is going to like it. But some people deal with rejections better than others. What won me over in your case was your indomitable spirit, you got knocked down, but you got up again, they're never gonna keep you down! What made you give M&E a second try and where does that doggedness come from?
SA: Perhaps the answer was written in the stars because you see I was born under the sign of Aries and we rams are very pioneering and do not give up. My good friend King Arthur Pendragon is also born under this Zodiac sign and he never gives up with his campaigns either. You will no doubt remember that he got arrested every year at Summer Solstice at Stonehenge for breaking the so-called "exclusion zone" but eventually he won and public access was granted. He also got his sword Excalibur back from a court in London and made the front page of The Guardian, but again that was after a hard-fought campaign. It is something I share with Arthur that I keep aiming for my goals despite all the barriers to success.
MM: Your first album on M&E, "Dive In Deep", was a real old hippy style folk album (no offence J); all festival singalongs, a touch of country rock, folk guitar and penny whistle, quite unlike anything else we were releasing at the time, and probably after too. What were the roots of your music, when did you start writing it and how did that final sound evolve?
SA: I always say that it was Bob Dylan that originally inspired me to want to become a singer-songwriter and it is true. Back in my early teens I really discovered the world of music and The Beatles and The Stones had become world famous but for me I was more attracted to the songwriters who performed solo with just a guitar. Besides Dylan I loved the work of Neil Young, Cat Stevens, Donovan, Roy Harper, Leonard Cohen, Joni Mitchell, Bridget St John and so many other lone minstrels. It was the power of their lyrics that grabbed my attention in an emotional way; it was their words far more than their tunes. But I was also very much influenced by many forms of music I was listening to including Tamla Motown, reggae, traditional and contemporary folk, blues, progressive rock, folk-rock, and pop music as well. Acts that I could name that were favourites so must have influenced me somewhere along the line in the 1960s and early 1970s include Marvin Gaye, The Supremes, Elvis Presley, Bob Marley, Neil Diamond, Johnny Cash, Jethro Tull, Marc Bolan with Tyrannosaurus Rex and T. Rex, Jefferson Airplane and Starship, Loudon Wainwright III, Kate Bush, The Idle Race, Roxy Music, The Incredible String Band, Martin Carthy, The Young Tradition, Simon and Garfunkel, David Bowie, Lou Reed, Jimi Hendrix, Van Morrison, Pink Floyd, Syd Barrett and so many more. Later acts I liked a lot included the Sex Pistols, the Boomtown Rats, The Clash, The Stranglers, The Ramones, Crass, Wreckless Eric, Elvis Costello, Jonathan Richman and then came The Human League, Culture Club, The Eurythmics, Visage and many more from the New Romantics era. I have never had a "final sound" because I like to try out different styles and am very eclectic by nature.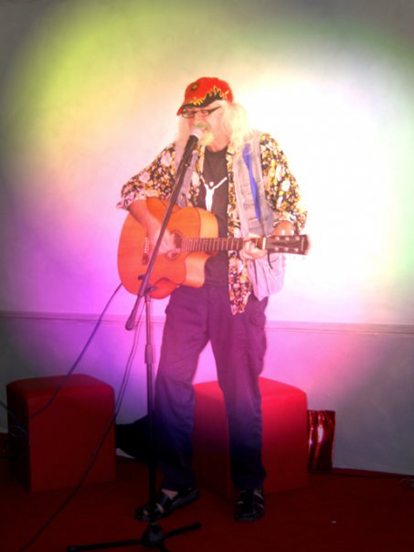 Steve Andrews: One Man Band - here performing at the Raffles Bar in Los Cristianos (think Blackpool, but with far nicer weather) in Tenerife, where he set up home (not actually in the bar, don't be silly) after escaping from Ely by riding King Arthur's motorbike over the barbed wire fence that surrounds the council estate. Honest.
---