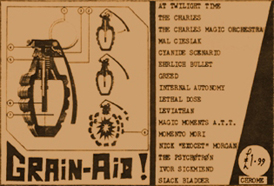 TITLE: GRAIN-AID!
ARTIST: VARIOUS ARTISTS
LABEL: MUSIC & ELSEWHERE
CAT NO: MMATT 19
RELEASE DATE: 2nd JULY 1988
Side A
► 01. EHRLICH BULLET - "We At Grain Festival"
► 02. GREED - "Move And Ride"
► 03. MAL CIESLAK - "Short Time Beside You"
► 04. AT TWILIGHT TIME - "Kotsatros"
► 05. MOMENTO MORI - "Colour Me" (live at The Grain Festival)
► 06. SLACK BLADDER - "Suicide Man" (live at The Grain Festival)
► 07. MAGIC MOMENTS ATT - "Squashed Elephant"
► 08. MAGIC MOMENTS ATT - "Us Weirdos Gotta Stick Together"
► 09. THE CHARLES - "Strawman"
► 10. THE CHARLES - "Professor Quest"
► 11. THE CHARLES MAGIC ORCHESTRA - "The Grain"
(live at Frimley Community Centre at the end of the very first Grain gig!)
Side B
► 12. IVOR SICKMIEND - "Tarts"
► 13. NICK 'EXOCET' MORGAN - "The Eddie Irwin Song"
► 14. LETHAL DOSE - "People Over Power"
► 15. LETHAL DOSE - "Ron Is Alright"
► 16. CYANIDE SCENARIO - "Awayday To Auschwitz"
► 17. CYANIDE SCENARIO - "Born To Die"
► 18. INTERNAL AUTONOMY - "Just Another Day"
► 19. INTERNAL AUTONOMY - "Lust, Lies And Ignorance"
► 20. THE PSYCHOTRON - "Psychojolting"
► 21. THE PSYCHOTRON - "Aftermath"
► 22. LEVIATHAN - "The Hypnotist"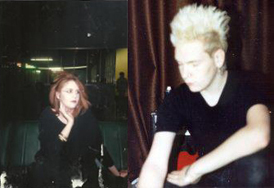 The core of the anarchic Internal Autonomy, Alex Cable and Nikki, who went on to become very highly respected in their field. These days, they live in Wales and make music under the Ferox(ide) banner. oYou'll find Facebook pages for FEROXIDE and INTERNAL AUTONOMY and tons of cool sounds from both bands on their BANDCAMP site...
---
* O R I G I N A L G R A I N D E M O S *
Digitised and cleaned up a bit, both available completely free, simply click on the appropriate cover image to download. Enjoy muchly...
---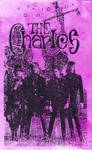 THE CHARLES -
ANOTHER WHIRLIGIG CASSETTE
---
(C30 demo, 1987)
Knobs II, Helter Skelter, Strawman, Ides Of March, Hormone, Period Piece.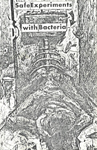 SLACK BLADDER -
SAFE EXPERIMENTS WITH BACTERIA
---
(C46 demo, 1988) Despair And Violence, Dirge Of Arabia, Liberace's Crabs, Insect World Wonders, Safe Experiments With Bacteria, Suicide Man (Hammered 5 Inch Nail Into Head), Al Jolson - A Tribute, Muffled Peals, James Bond, Fatcha Politica, Rupture, M/AK, Benders No. I, Precint Of Death, The Dendritic Spigot, Frank's Lab, Haemorrhoid Party II
---
* L I V E B O N U S *
---
► THE CHARLES - LIVE AT THE GRAIN FESTIVAL - SUNDAY 20th SEPTEMBER 1987
The climax from The Grain Festival in September 1987, the only surviving complete recordings from that great day. This 18½ minute excerpt just catches the last four tracks of their live set; "Helter Skelter", "Strawman", enjoy the view from Eugene's "Boiler" and bid farewell to the legendary "Professor Quest". A retrospective of the band's finest material appeared on M&E in 1992, "The Whirligig Cassette / As Far As The Eye Can See" (M&E 089), three tracks also found their way onto our 1987 collaborative album, "Mick And Chris On Acid" (C-4005), which will be on the forthcoming "United World Underground Collection"...