MM: Whoever it is, I bet he wishes he were still that young! Now, you were very supportive at the beginning of our expansion from The Mmattrix into Music & Elsewhere, even providing three masters from your own label to help get us off the ground, that would have been in our very first batch of M&E releases in April 1992. Of course though, being from the north-east, you didn't like the idea of us Surrey Heath types making money out of you, so they were all three charity compilations! There was "Pongo The Clown" (for Middlesbrough Rape Crisis Centre), "Maurice The Mole" (Alzheimer's Society) and "Norman The Hedgehog" (Hopefield Animal Sanctuary), released as M&E 015-017. The one I particularly wanted to pick up on was Hopefield, because you were in Cleveland and it was in Essex, how did it get to be on your radar?
KT: One of the trademarks of the post-based underground was the masses of flyers that you used to get sent in every letter – another great way of checking out more and more music and getting involved with more and more people – some of these flyers came from the Hopefield Animal Sanctuary, and I just admired what they were trying to do with sick and abandoned animals, and the work various volunteers were doing… So when the idea of producing three charity compilations through the Trundley Experience came about, the Hopefield Sanctuary became one of the choices…
MM: Hopefield, of course, became Music & Elsewhere's (and the United World Underground project's later) charity of choice and we carried on raising money for them thereafter. Though Sam and I can't run an Open Day stall there any more (it's a nine hour round trip for us since the move), we still send them a cheque every year, Rather trippily, when I was traced by my birth mother four years ago, it turned out she lived barely 10 minutes from it and was a fairly regular visitor! Small world. Though I wouldn't like to walk it. Have you kept in touch with them over the years (Paula & Ernie are both no longer with us, sadly) or are you still involved in fund-raising for any other causes?
KT: Sad to say I lost touch with Hopefield a few years back – however, incidentally, the animal charity bit still continues today with different animal groups, and we have helped to adopt a donkey called Oscar. I have done fund raisers and promotional work from various groups – largely anonymously, but they have included the Cleveland Mind, the NHS Early intervention service, Heel and Toe Dyspraxia group for example – mainly graphics work, but also some video and web design…
MM: I seem to remember you first came to visit, at our old place in Surrey, must have been early-ish 1993. I recall we met in the White Hart pub in Frimley (I got Sons Of Selina a gig there once, it was a seminal moment in their history), I hope I bought you a drink! It was one of the things I loved about the underground movement, ending up with houseguests from all over the planet (okay, you were only from Cleveland, but we did so too have them from lots of foreign countries too!), great stuff. People you'd only ever met in the mailbox, yet there they were on your doorstep and it was like you'd always known them. What were the most interesting visits / visitors you remember and what are your memories of them?
KT: As well as seeing your good self in the wilds of Surrey, there were lots of memorable encounters through the underground - meeting Felix from Sicky Spread in Reading… I went down to visit and this branched out into a week's holiday over in Denmark when he went to live there a few months later; also seeing Wat Tyler in an anti poll tax fundraiser in London, staying over at Pete the guitarist's, and ending up producing artwork for their 10" EP and CD compilation as a result. Seeing Stan from Howl In The Typewriter over in Blackpool…. visiting Richard Gallon of Chainsaw Cassettes at his squat in London (which led to him printing my Trundley Experience T Shirts and my running a stall for the Trundley Experience at Pushing Against The Wire, an Industrial Music Festival in Peterborough), being announced on stage as a guest of honour at Ratstock, an all day music fest at a squat in Leeds, with the Ceramic Hobs and Smell and Quim – all amazingly memorable times which almost always led to something else!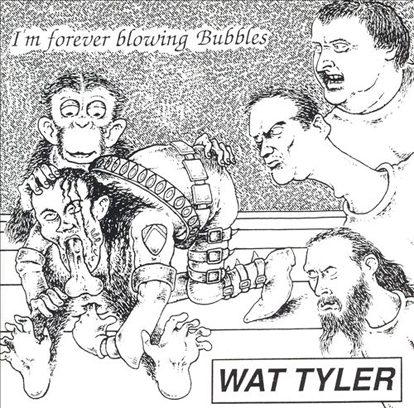 MM: Beyond your great enthusiasm for music, I was greatly impressed by your artistic talents, you had such an eye for the grotesque, like that wicked Trundley Experience logo. But I suppose the work I absolutely HAVE to ask you about is THAT Wat Tyler album cover. You very kindly gave me a copy of that CD, but Pete Cole borrowed it and never gave it back. I've never forgiven him. How did you get involved with Wat Tyler, how did you EVER get away with that cover, and do you still do much in the way of artwork nowadays?
KT: I first met up with Wat Tyler through a girl, who I was with at the end of the 1980s, being best mates with Jo, the wife of Wat Tyler's guitarist, Pete Smith. So we got introduced and he sent us demo tapes. When I started the Trundley Experience, I recorded them live and put out another tape with their blessing. The correspondence continued, and when in 1992 or so, they were going to put out their first piece of vinyl, a few of us where invited to submit an idea for the cover – mine got accepted, and it was put out on vinyl as Appetite For Axl on their own Rugger Bugger label, and later as a T Shirt. It got picked up by the NME as their single of the week with a grossed out comment about the cover. This must have helped Wat Tyler pick up on releases somewhat, because shortly after that, they asked me to do the cover of their collected works CD, I'm Forever Blowing Bubbles, based, naturally enough, on Michael Jackson going down on his pet chimp, Bubbles. More good reviews. However, after that, I was asked to do the cover and label artwork for their first seven inch for another label, Damaged Goods, based on Madonna's booklet, Sex. Damaged Goods (and Pete Smith too, I heard) were completely freaked out by the artwork I sent and my contribution was scrapped, the seven inch EP, Sexless, coming out with someone else's artwork. So after that, they got taken up by other labels, used photographs and stuff for covers of their other releases, and I never got asked again, and the correspondence between us faded away…

MM: It seemed to be quite some years before you turned your hand to making music, first (to my knowledge) with Acidfuck (pronounced the north-east way to rhyme with 'book', of course), whose album "Cranial Drift" (M&E 429) we released in the New Year of 1998. The track we used on the M&E Audiozine was the excellent "Sex & Drugs & Acidfuck", which my original review describes as "kind of teknorock, pounding away like Holland/Skin/Tunnel, all manner of odd noises get thrown in, does yer 'ead in! Wouldn't wanna trip to this, too scary!" My ears bled for weeks afterwards, but they healed, unlike the psychological damage. What was it you set out to achieve with Acidfuck and how content were you with the end result?