☼ Star Rating System ☼
☼ we start with an album that tends to stand out from the crowd a bit,
☼☼ and then one that tends to stand out from the crowd rather a lot,
☼☼☼ then you're starting to talk a really bloody good album now,
☼☼☼☼ then bordering on genius, a very exceptional album indeed,
☼☼☼☼☼ and finally, as near perfection as is humanly possible.
☼ THE NEW M&E COMPILATION CD! ☼
VARIOUS ARTISTS – "United World Underground"
(MMATT CD 2 ☼☼☼ 76:59 Music & Elsewhere, England)
After some 3½ years in the works (not that I'd suggest underground bands are disorganised or nuffink J), it's here, the brand spanking new compilation CD from us lot what are here at Music & Elsewhere like! Before we even get on to the fabulous collection of music on it, what about the artwork? Dead groovy, promise. The front cover painting is by none other than Alan Arthurs himself, the man responsible for lots of them spacey Hawkwind covers. Ooh! The backliner and on-disc artwork is courtesy of our regular contributor, Ray Elf, and jolly nice too. And musically? Wow! Here's what ya gets; Into The Abyss (Greece) – "Lunar Drive", Dark Star (Germany) – "Masterplace", Eye (Australia) – "Perspective", Earth (Germany) – "Schlaflos", Grass Harp (Germany) – "Vertigo", Ras.Al.Ghul (Portugal) – "Qual", Idiom (England) – "Joch McGregor", Blacklight Braille (U.S.A.) – "Bottle Green Waters", Lord Litter (Germany) – "Love Freak", The Stinking Badger Of Java (Australia) – "Pissing Diamonds", Neo / Operattack (England) – "Master And Slave", T.M.R. (Uranus) – "Sister Jodi", Cosmic Dance Society (Germany) – "Guardian Angel", Love In A Plague (England) – "Freak" and Steve Andrews & Ned Zero (Wales) – "Real Love And Communication" (as you've never heard it before)! Spoil yourself, you won't regret it. Honest.
☼ THE NEW SAMPLER ☼
VARIOUS ARTISTS – "M&E Audiozine – New Year 2001"
(M&E 574 ☼☼½ 90)
And, of course, the traditional economic way of checking out the cream of the new releases and distro items. Features the following tracks;
Cheapo Card Company – "The Magi Crap" (sorry), Lord Litter – "The Creep", The Conspiracy – "Blue Angel Agenda", Mr.Quimby's Beard – "Within The Mind – Part II", Gurus Of The New Millennium – "I Can Feel It" (but it's naughty), Ras.Al.Ghul – "Driven Motion", Delphium – "Heaven And A Hope Eternal", Vocabularinist – "Sea Sick Spirit", Eye – "Mandate", Don Campau & Achim Treu – "Not For Long", Blaine Jones – "Untitled", Blacklight Braille – "Song Of The Battle Of The Birds", Karda Estra – "Transference", Idiom – "Cohabiting", Solanaceae Tau – "Everything Is Bleeding", The Stinking Badger Of Java – "Enhancer", Terri B. – "Georgia", Tutsis – "Heroin Bitch", Acidfuck – "Piece Of Christ" and last and most definitely least, Cheapo Card Company – "The Parci Gam" (we really are very sorry, honest).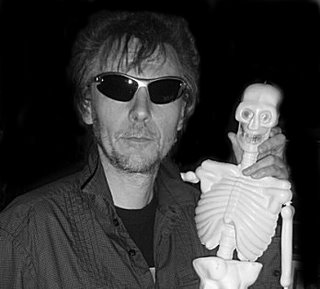 Karda Estra (above) and the inimitable Lord Litter (left) shared the Release Of The Season tag for New Year 2001 with two seriously excellent albums.
☼ RELEASE OF THE SEASON ☼
KARDA ESTRA – "The Land Of Ghosts"
(M&E 572 ☼☼ 43)
Well, after begging Richard Wileman for a cassette release for some 7 or 8 years, we finally get one! Hallelujah, the man from Del Monte, he say yeah! Okay, so we were begging for a Lives & Times cassette, but they don't exist anymore and Karda Estra does. Ileesha Bailey's voice is still here, filling in time while waiting for Bill to come home, but this time it's used more as an instrument than a purveyor of lyrics. Clever. So what you get here is simply stunning musicianship, as anyone who heard Lives & Times will know. Progressive electronic rock music meets neo-classical, uplifting melancholia, if you get my drift. Reverbed percussion, gothic organs, girlie sighs and chorale, multiplex themes and superbly arranged and produced to boot. Classic Floyd lead guitars, haunting, trippy, multi-layered sounds, those Curved Air processed femme vox, a fairytale for sleepwalkers everywhere. Clannad meets The Cocteau Twins, atmospheric, dark and brooding, powerful and triumphant. A superb composer, musician and visionary. Flash bastard. J This collection includes material from the first Karda Estra CD, "A Winter In Summertime", the new one, "Thirteen From The Twenty First", plus some film soundtrack stuff and a couple of instrumental works from the old Lives & Times CDs, "The Pull Of A Tide" and "There And Back Again Lane". A really great introduction to the work of a real musical genius, finally cured of his Chromaphobia (morbid fear of cassettes) after many years in therapy at The Magic Clinic. Whatever next?
☼ RELEASE OF THE SEASON TOO ☼
LORD LITTER – "Downpayment – M&E Special Edition"
(M&E 571 ☼☼½ 90)
Release of the season TOO? Explanation: this is the M&E release that got the biggest review score this time. However, before we decided to expand it to a special edition and it was the material from "Downpayment" only, it was marginally behind the Karda Estra release. Thus, as both albums won really, and they are both terrific, we thought we'd solve it by having a double this time round, okay? Sorted.
So let's do the music. And first, the new album, "Downpayment"; this is a kind of "back to the Golden Age" for Jörg, our favourite German buddy (didn't even take the piss after the recent World Cup qualifier, bless him). After "Back To The Basics", this is a progression to the fuller sound of his classic, "Torn Between Temptations". He leans to country these days, but with his own twang on things, say "subterranean country folk with quirks"? Plenty of acoustic guitars, bass, occasional keyboards, well recorded, nicely mixed, some electric guitar and some serious warmth. It's the kind of warmth that can only come from a man who has lived the underground experience as much as Jörg has. All this praise, we'll be swapping spit in the shower next! J "Keep The Balance Roger" may not be as catchy a title as "Careful With That Axe Eugene", but it does present some nice jazz (hmmmn, great) meets R&B with brushed drums and step bass. Then ya gets some Terry Dactyl & The Dinosaurs shuffle styled bluebeat with slide guitar and accordion! "The Happy Grasshopper" (bless) is a fine piece of bouncy bluegrass, almost skiffle. Maybe the title "Living In The Future Now" is overly optimistic though. At Jörg's age, the future is all behind him!
So, you're 33 minutes into the special edition, the new album has just finished on a touch of country, so we go back in time to 1991, to "Torn Between Temptations" (coz a special edition of that will be out next time around), and present "Could You Flush Me Down The Toilet" by way of a bonus, and the only example of the Lavatory & Western music form known to date. And another bonus track to fill the side, The Lord Litter Band's "I Don't Wanna Discuss It" from 1995.
So you've had 45 minutes and the show still ain't over, coz we've deleted his previous "Back To The Basics" album (M&E 473) and put the whole 22 minutes on here! Both for the price of one, do we spoil you or what?
And now you've heard "Back To The Basics", hear the basics he was going back to! A lovely collection of seven vintage Litter tunes follows, tracking his early history from 1984-1990, all drawn from the now deleted "The Nutty Songs Once Again".
Tis a 90 minute voyage of wonderment and I commend it to the house. Sorted.