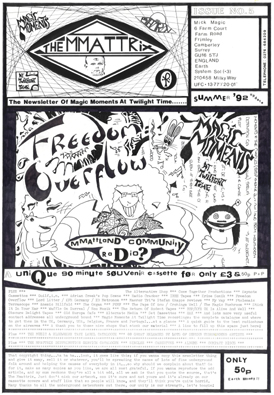 MUSIC & ELSEWHERE
A CHART HISTORY
(1992 - 2004)
---
As you would probably imagine, the M&E best sellers charts, the first of which was published in the Summer '92 issue of The Mmattrix (left), were pretty much dominated by MMATT releases and our own compilation series, both of which had a very obvious advantage. So, apart from when you got the occasional mega release on M&E that broke through that barrier (and it did happen), a simple best sellers chart history would be a tad uninteresting and wouldn't really tell the whole story. After all, we were only responsible for about 11% of our output, there were eight times as many M&E releases that came from other sources. This is their story, put together from the other chart we did, The M&E Top 10, the real story of what went down in the underground. For the sake of brevity, I've only used the Top 5's in this article, you'd have been here all night otherwise! From our first no.1 in Summer 1992, the mighty X Ray Pop, right through to our last published chart toppers in New Year 2001, Gurus Of The New Millennium, and a little peek into the dying embers of what came after...
The Mmattrix No. 5 - Summer 1992 Update (July)
Call me a sentimental fool, but I thought it would be nice to start with our very first chart as a complete Top 10, exactly as published in July 1992, along with the original accompanying notes;
01 (01) Magic Moments At Twilight Time - "White Hawk Atomic" (MMATT 34)
02 (03) Magic Moments At Twilight Time - "Zoen Nostalgia II Earthbound" (MMATT 33)
03 (--) X Ray Pop – "Under My Skirt" (M&E 028)
04 (02) Magic Moments At Twilight Time - "Psychotron 0" (MMATT 20)
05 (--) Magic Moments At Twilight Time - "And Other Live Moments" (MMATT 24)
06 (--) Heat Beat Cut – "Too Late To Scream" (M&E 024)
07 (--) Solanaceae Tau – "Outdoor Expressions" (M&E 023)
08 (--) Various Artists - "Frosche Und Grillen" (M&E 036)
09 (--) Paradox – "The Yukki Dance" (M&E 038)
10 (--) X Ray Pop – "June '89 Repetitions" (M&E 027)
A chart? Are they serious?? Hardly! We just thought... "Wouldn't it be fun to do a chart?" Then we thought; "Yes, probably. All the great bands on M&E will be all excited to see where they are!" We might be wrong, but what the hell, huh? So here it is, our best sellers chart for the first quarter of 1992 and congrats go to X Ray Pop for being the top selling Music & Elsewhere band, launching straight in at no.3 with the M&E exclusive, "Under My Skirt". Pam-Pam, X Ray Pop's cutesy singer, came to visit us here in Mmattland just after Easter. What a sweetheart! We looked after her very well, gave her lots of coffee (no biscuits) and a pizza pasty. She told me some fascinating stories about her X Ray Pop partner, Didier Pilot, too... but I daren't print them! You remember the X Ray Pop album, "Pink Harpoon For Girls"? Pam-Pam hadn't a clue what it meant, Didier hadn't had the guts to tell her! So I explained. No, I didn't show her, I'm much too polite a host for that! It was great to meet her anyway, hope she'll be paying us another visit before too long. Back to the chart again... something I found surprising was that some of the brilliant bands I thought would dominate it haven't charted yet... like the excellent Lord Litter, The Drum Fondu, L'Edarps A Moth... come on, music lovers, you know not what you miss!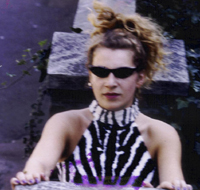 So, the accolade for being our first M&E no.1 went to Tours in France, et voila! The band already had the reputation of being 'the darlings of the underground' long before I had discovered them. I'd first heard them on an Irre Tapes compilation, I think, a track called "Les Tristes Amazones". I'd thought it was a piece of kitschpop brilliance. The "June '89 Repetitions" live album (which only charted at no.10, but was my own personal favourite) was originally released on Irre Tapes in Germany, coming to us courtesy of Matthias Lang (as did the Heat Beat Cut and Solanaceae Tau albums), but I made a point of contacting Didier 'Doc' Pilot directly, both to praise him to the skies and ask for an album for M&E. The result of that request was "Under My Skirt", graced by the delightful voices of Pam-Pam (pictured) and Zouka Dzaza, the album was an immediate winner with our early supporters.
---
The Mmattrix No. 6 - Winter 1992/93 (December)
1 Sons Of Selina – "Ambition" (054)
2 X Ray Pop – "Under My Skirt" (028)
3 Paradox – "The Yukki Dance" (038)
4 Sponge – "Wand Inside Jar" (067)
5 Wobble Jaggle Jiggle – "What?" (075)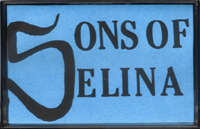 Our second chart, now expanded to 26 places (reasoned as 1 per week over the six months since the last chart) saw the French favourites pushed off the top spot by a band from much closer to home, the lovely seaside spot of Rhyl in North Wales (a suburb of Liverpool). Lead by former punk naughty boy and lightweight drinker, Neil Crud (4Q), this fine slice of spacepunk psychedelia was 101% what our supporters were looking for. The band went on to do live sessions on BBC Radio 1 (Sam and I remember crowding round the radio to listen!), were signed by Delerium Records and became our best sellers ever. I used to play this album over and over. But always fast forwarded through that bloody thing about trains...
THE MAGIC INTERVIEW: NEIL CRUD
---
M&E News - Spring 1993 (April)
1 Flowers Of Romance – "The Story So Far" (088)
2 The Thamesmead Rollers – "Wasted Years" (119)
3 Wobble Jaggle Jiggle – "Fresh Today" (112)
4 Wobble Jaggle Jiggle – "What?" (075)
5 Stormclouds – "Psychotronic" (125)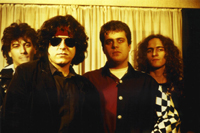 It was a great honour to have our third chart topper (now of 25) in the catalogue, the Flowers Of Romance (left) were one of the best known gothic rock bands in Greece and more used to appearing on vinyl on Wipe Out Records than cassettes on M&E. Mike Pougounas (2nd from left) was quite active beyond just singing, also a freelance writer, he took quite an interest in the underground in general, soon becoming a welcome ally in fighting the good fight. "The Story So Far" was exactly what the titles implies, a journey from their punky origins in the early 80's, right up to date, including their 12" single version of the Stones' classic, "Paint It Black". Mike went on to work with such luminaries as Wayne Hussey (The Mission) and continues to be a big name on the Greek scene as part of Newz Erogod. He also got me very drunk on ouzo once at Shepherd's Bush, but that's another story...
---
M&E News - Summer 1993 (July)
1 The Thamesmead Rollers – "Wasted Years" (119)
2 The Invisible Band – "Occam's Razor" (164)
3 Stormclouds – "Psychotronic" (125)
4 Cyborg Sex Babies – "Dead Friend" (126)
5 Wobble Jaggle Jiggle – "Fresh Today" (112)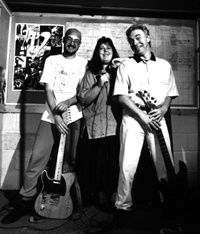 Then, as the chart expanded further to a Top 30, in what can only be described as 'a temporary lapse in good taste' by our supporters, we got an English band at number one. Unfortunately, it was Slaphead, Dumpy and Gormless, aka The Thamesmead Rollers (left). So the M&E chart was topped by zimmerframes on acid from Plumstead's oldest teenagers, sounds harking back to the golden age of glamrock, proving once and for all that nostalgia isn't what it used to be. And is if this wasted 46 minutes wasn't enough, the band are STILL going, twenty odd years later. People like them. What's wrong with you all? Why does nobody listen to me? They're shite! If this isn't enough abuse for you, read the interview...