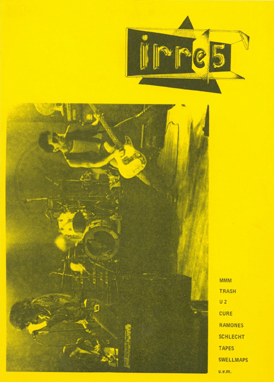 Following an act of kindness from a valued old friend, Matthias Lang, we are able to bring you a nice little nostalgic journey through the golden years of the underground. Matthias, fortunately, is a keen archivist and had kept many of the Music & Elsewhere newszines as sent (I only have the original A3 master sheets in many cases). These have then been lovingly scanned and printed as PDF files to be shared again with the world. Simply click on the cover image of any issue to download it and peruse at your pleasure, I'll be nice and provide a quick overview of what was actually in each one. Matthias' Irre Tapes label provided M&E with many master tapes back in the day, introducing us to many fine bands and artistes, he also did the original German release of Magic Moments At Twilight Time's "Flashbax Vol. 3" in 1991, details of which can be found here. Right, make yourself a nice cup of tea and off we jolly-well go...
Matthias Lang, seen here in a fairly recent picture with his wife, Marietta, was the man behind the premier German cassette label, Irre Tapes, which ran from 1983-95. As with M&E, the label had grown from other projects, and in Matthias' case it was the Irre zine which he had started a few years before (left). For further info, there is a good interview with Matthias on Don Campau's Living Archive Of Underground Music (just click on the photo) and a catalogue of Irre releases on Discogs.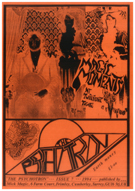 THE PSYCHOTRON - No. 7 - 1994 (63.4MB)
Effectively a yearbook, 26 pages, covering all activities throughout 1993. Includes information, reprints of reviews, playlists, articles and interviews etc, broken down nation by nation;
UK: Guilfin, Freedom Overflow, Acid Tapes, Personal Soundtracks, Better Days, The Trundley Experience, Rodent Tapes, Obscure Delight / Second Avenue, Alternate Media, Crane Up, Dizzy Positivity, Phoenix Tapes, Pumf, British Progressive Rock Directory, Dread Zone, Ugly, The Organ, Hangover & Out, The Farnborough Groove and The Zine. Germany: Tonspur Tapes, KFR (Lord Litter) / Radio Marabu, Irre Tapes, Neuzeitliche Tonkonstruktionen, Beton Tapes, Progressive Entertainment, Cat Killer, My Way, Maljugin Musik, Ebu's Music, Drunk On The Moon, EB Metronom, Pleasuredome and Hawkzine. U.S.A.: Harsh Reality, Lonely Whistle Music / KFR (Don Campau) / No Pigeonholes, Set Cassettes, Audiofile Tapes, Anemic Billfold / Guaranteed Cleveland Records, Gajoob, GPC Productions, Eye Records and Tim Id Productions. France: Krime Sonik, Les Extraordinaires Aventures D'Edmond Le Petit Tenebrion, The Demotheque, Le Krab Tapes, Cartel Experimental and Radio Libertaire. Belgium: Fool's Paradise, Trilogie, Under The Flag, Crohinga Well and The Magic Mushroom. Italy: Hax, Old Europa Cafe and Sin Org. Portugal: SPH. Austria: Trost. Greece: FORBA (Mike Pougounas freelancing) / Golgothas and Wipe Out Records. Australia: Left As In Sinister. Lithuania: Tango Editions and Naj. Netherlands: Nizagamah / Hahamandad.
Also features a complete list of all MMATT stuff available at that time.
---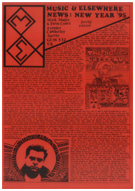 M&E NEWS - NEW YEAR '95 (13.7MB)
Just the regular four-monthly newsletter, 8 pages. All the latest on M&E and MMATT activities, including covering the launch of "The Best Of Catty Log", the release of "The Secrets Of Sound EP", reviews and articles. M&E release reviews for Grass Harp, Sabotage, 4Q, Toshiyuki Hiraoka & Okaniwa Fumihiro, L.G. Mair Jr., Alphane Moon, Otherworld, Sweet William, Revenge Of Nephthys, The Folkoffs, Doctor Brown and The Original Mind Band. Features the Best Sellers Chart for Fall '94 and the Best Of Year Charts for 1995; Bands, Albums and Feedback.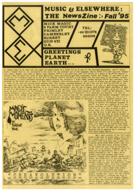 M&E: THE NEWSZINE - FALL '95 (44.7MB)
Regular four-monthly newszine, though quite a big issue at 18 pages. The cover features a first sketch of the cover art for "Creavolution", originally scheduled for October release that year, the best laid men of mice with plans, eh? There's an amusing editorial about the summer too, which had been most eventful; we'd been to a Kava Kava / Serious Plankton gig, had a natter with Delerium Records boss, Richard Allen there; there's all the tales back and forth of our recording sessions up at Marc Bell's Brain Dead Studio in London; a trip up north and visiting Otherworld's Clare Durrant in Salford; the gig I got Sons Of Selina at the White Hart in Frimley with Serious Plankton whose money they ran off with; a fun day on Shepherd's Bush with Mike Pougounas of Greek gothic rockers Flowers Of Romance, which involved so much ouzo that I ended up surfing on a kerbstone while singing "Wipe Out"; and the final mixdown of "Creavolution" at Brain Dead, which included a surprise visit from Mana Erg's Bruno De Angelis, over on a brief trip from Rome. And all this in the hottest and stickiest summer we'd had in aeons! Oh, how I love that rock 'n roll lifestyle, yeah...
The network section (reprints, info et al) covers; Acid Tapes / Try Acid, Freedom Overflow, Alphane Moon (the zine), Shoes Of Quality, Lowlife, The Organ, Beware The Cat, my somewhat shock inclusion in The International Who's Who In Popular Music, Fight Amnesia, EB Metronom, My Way, Pleasuredome, Lord Litter, the sad announcement that Irre Tapes was ceasing to trade, Enzyme, Paranoia Critical, The Thing, Ignite (the zine) and Bizarre.Best Sellers Chart is a Top 25 covering sales from May - August 1995. M&E release reviews for Magic Moments At Twilight Time, Space Invaders, Feces Connoisseurs, Earth, Patchbay Yum Yum, Screamworld, Religious Overdose, Tommy Mill Home, Scrooge, Heiland Solo, Into The Abyss, Barking Dogma, The Conspiracy, Siela and Sons Of Selina.
---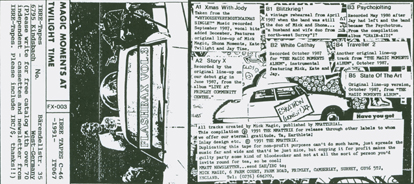 The cover of the Irre Tapes release of "Flashbax Vol. 3" (1991)